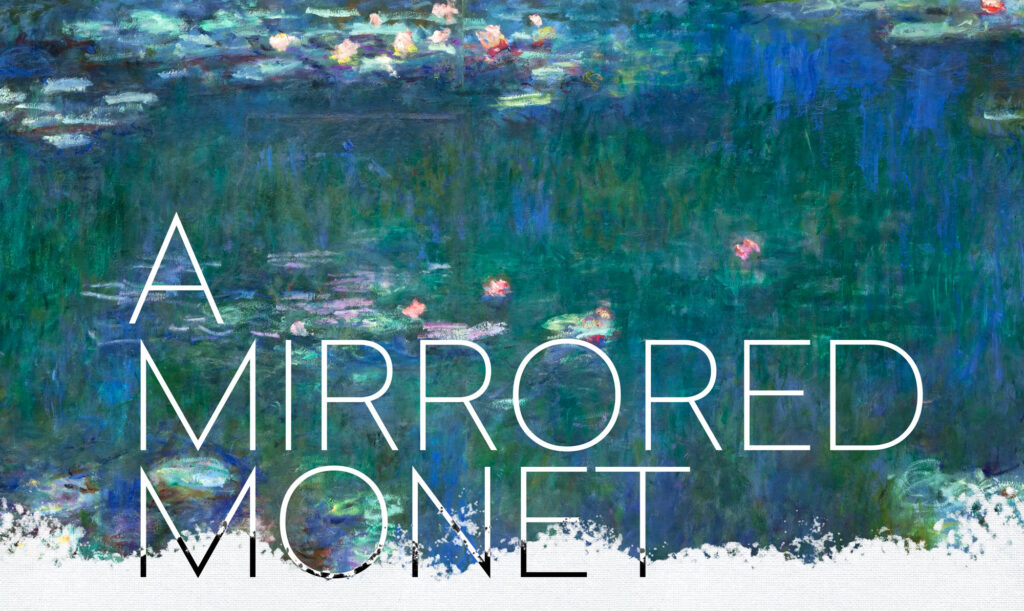 Piano: Eugene Gwozdz
Synthesizer: Joe Mohan
MP Kuo/Scott Lehrer: Sound Design
In A MIRRORED MONET we meet Claude Monet at age 76, struggling with himself and his art. His eyes are failing, his teeth rotting, younger painters like Matisse have passed him by in the public's awareness and he's blocked from working on his commission with the French State – the Water Lilies. He is twice widowed, has lost his oldest son to tuberculosis at age 31 and his youngest son is fighting at Verdun. It is 1916 and World War I is raging, coming closer to his home at Giverny every day. His commission provides him with needed food and fuel, as well as wine and his beloved cigarettes. If he doesn't work, he doesn't eat.
He invites us to join him on a journey to the past, to his salad days as a starving young artist with his friends Renoir, Bazille and Manet, but most of all – with his beautiful first wife Camille Doncieux. History tells us she died at age 32 and it is unclear exactly the cause. A botched abortion? Uterine cancer? Tuberculosis? Whatever the real cause, Monet is filled with guilt for the life they lived together in poverty and deprivation, knowing in his heart it is that ….and the birth of a second child perhaps, that killed her. That in fact, he killed her. At this point in his life, he knows he must deal with that guilt. We the audience will help him, mirroring that early life and its challenges.
A previous project long in development was MONET, about Claude Monet's and other Impressionists' efforts to break through the rigid Beaux-Arts Salon dictates to a new art form. As their efforts are well-documented historically and although interesting, not personal, I felt the need to re-write the book/story, concentrating fully on the character of Claude Monet and his personal struggles as a man and artist. I believe much of what he was experiencing is very relevant today with our aging population, so many nations at war with tanks and guns blasting in the Ukraine, and the changing unstable governments around the rest of the world causing so much violence and terror in the world, as in 1916.
---
A MIRRORED MONET had its first public reading at the new Dramatists' Guild Foundation's Music Hall on April 9-10. Stuart Ross directed the 29 hour reading with a group of marvelous actors led by Mark Jacoby (Monet at 76), Matt Hydzik (Young Monet), Allie Trimm (Camille), George Dvorsky (Marquis) Jeanne Lehman (Aunt Elise and Narrator), Tom Rhoads (Bazille and Paul Durand-Ruel), Donnie Kehr (Manet), Akron Watson (Renoir), Cecilia Tripped (Blanche and Suzanne), Pomme Koch (Leroy). Music direction was by Joe Mohan, assisted by Matt Liu.
---
A reading was held March 8th, 2019 at the York Theatre in New York City. Music and lyrics were by Carmel Owen and book by Joan Ross Sorkin. Direction was by Alan Paul, music direction by Eugene Gwozdz, associate music direction by Joe Mohan, projections by Lacey Erb and lighting by Lucrecia Bricano. The cast included Ken Clark, Peter Cormican, George Dvorsky, Jeanne Lehman, Jamie LaVerdiere, Maurice Murphy, Tom Rhoads, Danielle Erin Rhodes, Alexandra Silber and Price Waldman.
---
Reading at the French Consulate's Salon Rose on February 5th featured direction by Nick Corley and cast of extraordinary Broadway talent.