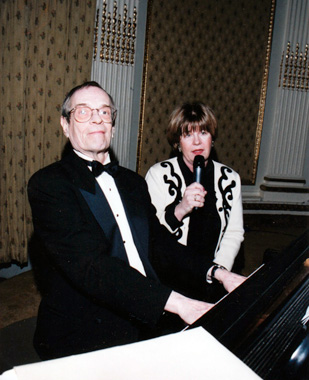 Asylum: The Strange Case of Mary Lincoln is an outstanding musical drama based on Mary Lincoln's tragic, but ultimately ennobling life. As theater the drama combines historical accuracy with a successful script and some captivating music and lyrics. Indeed presented in New York a few years ago, the play received excellent reviews along with a full-house for its performances off Broadway. Americans have always been fascinated by our 16th president's wife, and she has variously and continuously been portrayed in non-fiction biographies as well as studies of First Ladies. The unusual dimensions of her life—the loss of three sons, her husband's assassination, her sturdy support of her husband before and during his presidency—have also attracted novelists, poets and filmmakers. Certainly part of her hold on audiences has been her unnecessary institutionalization in an asylum outside of Chicago during the summer months of 1875. Her agony is magnified by the fact that her only surviving son has orchestrated her committal to this lunatic asylum. In the eight weeks that Mary Lincoln was in Bellevue (somewhat of a misnomer given its wooden bars in patient's rooms), she worked tirelessly to gain her freedom. In fact one of the characters in the play and in real life, the lawyer Myra Bradwell, was instrumental in this process. Although Mary Lincoln was able to live independently for four years after her release, controversy has long raged over whether she was insane or not. Author of the book June Bingham and composer and lyricist Carmel Owen have placed the two acts of the drama in the asylum as Mary Lincoln plots her release and struggles against the superintendent for access, even by letter, with the outside world. In several touching scenes Mary remembers her life with Lincoln and the early life of her perfidious, though scarred, son Robert who is responsible for her institutionalization. And it is the interaction of mother and son that is the emotional core of Asylum and that gives it universal resonance beyond its particular historical setting. Controversy still swirls among historians about many aspects of Mary Lincoln's life. But certainly there is evidence for the unfavorable, though sensitive portrayal of Robert in Asylum. Bingham and Owen have been scrupulous in their use of historical documentation that supports their evocative depiction of Mary Lincoln. And as all good plays do they have been able to present an historical tragedy in a new compelling format.
– Jean H. Baker
Professor of History at Goucher College
author of Mary Todd Lincoln: A Biography
Click the logo below to obtain more information about licensing rights
for Asylum: The Strange Case of Mary Lincoln.